A NU'Bee just came out of it's larva
Regular price
Sale price
$39.99 USD
Unit price
per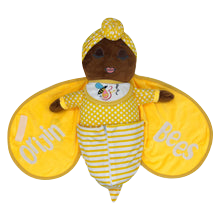 Some Bee-tiful Words
Kandi Burruss

"I love her for Blaze...Let's promote these dolls to be the NEXT BIG BRAND OF DOLLS FOR KIDS!!!"

Kerri & Jayde Garner

"Orijin Bees Dolls, they impress me alot! These dolls are beautiful!"

.

"I just love the representation!"

Shivvy Smith

"Oh my goodness. Finally I see a doll that resembles my children!!!"
O.R.I.J.I.N B.E.E.S
Our Representation Is Just Inclusion Normalized. Beautifully Empowering Every Soul
About our HONEYCOMB